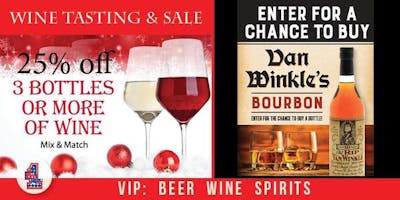 Holiday Hootenanny: Wine Sale & Rare Bourbon Lottery
Wine Sale! 
It's the biggest wine sale of the year!! 'Tis the season for merriment, fine wine and rare bourbon. Join us as we pop the corks on some of our best bottles and give you a great deal! We will have over 15 wines being poured in addition to giving you 25% off your purchase of 3 or more bottles!

Rest of Best Lottery!
We will also be hosting a hard-to-find bourbon drawing for the Rest of the Best Bourbons:
George T Stagg
William Larue Weller
Thomas H Handy
Van Winkle 10yr
Van Winkle 12yr
Van Winkle 15yr
Van Winkle 20 yr
Each person attending the event between 12pm – 2pm will receive one raffle ticket. You must be present to win. Winners will have the right to buy a specific item.