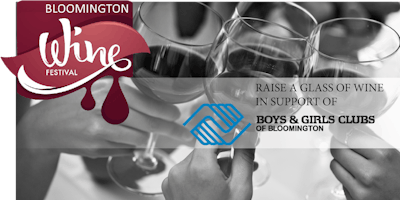 Bloomington Wine Fest 2019
Raise a glass of wine in support of The Boys & Girls Clubs of Bloomington on Friday, April 26th at Deer Park Manor from 5:30pm – 8pm with an exciting wine tasting. Hand-selected bottles for quality, elegance and value, this is a must-do event for Bloomington wine lovers. 
Enjoy an evening of wines and feast on delectable gourmet hors d'oeuvres. During the event, attendees will have an opportunity to purchase the sampled wines directly from  bigredliquors.com at incredible savings and choose pick up location at checkout.
New this year: The Best Wine Pull in the state! Join in the fun to benefit the BGSB Summer Camp Scholarship fund.
The Bloomington Wine Fest is brought to you by The Boys & Girls Clubs of Bloomington and Big Red Liquors
The Boys & Girls Clubs of Bloomington is a youth development organization that provides educational and enriching out-of-school programming to as many as 450 local youth, ages 6-18, that attend the Clubs daily. BGCB served a total of 2,690 youth in 2016. Many of the youth who attend the Club, and who most benefit from our services, come from low-income families. 98% of our Crestmont youth come from low to extremely low-income income families and 63% come from single-parent households. In order to ensure that all youth in need of services receive them, we maintain a low annual membership fee of $20 ($5 for Crestmont youth). Each youth member receives safe transportation to the Club (Crestmont Members can receive rides home at the end of the program day), a daily snack, access to tutoring services, extracurricular programming, mentoring, and guidance from professionally trained staff and caring volunteers. Visit www.bgcbloomington.org for more information.